While I may not be a master chef coming up with great new ideas to make people's mouths water, I do enjoy experimenting with new ideas. Two of my favourite easy to make food items are "Eggy in a Basket" and ever since Katie showed me the "real" way to make one, the grilled cheese sandwich. Grilled cheese sandwiches are absolutely amazing, however there are improvements that could be made.
After Katie butters two pieces of bread, she throws on some parmesan cheese along with some garlic salt, then in a hot skillet one side goes, stack some shredded cheese on top, and place the second piece of buttered bread on top, butter side up. Wait for the bottom piece to brown, then flip the whole thing, grill until the bottom is brown and crunchy. Absolutely tasty, I am making some modifications in an attempt to make it even better by adding an egg to the mix.
What you need (Makes 1 sandwich):
1 Egg 2 Slices of Bread (Sourdough works really well, anything sliced thick) 1 cup of shredded cheese (Or more, this is too taste) Parmesan Cheese Garlic Salt and/or Italian Seasonings (as desired)
Here are the steps, along with pictures:
Butter the bread on one side, and cut a hole in the middle of one of the slices.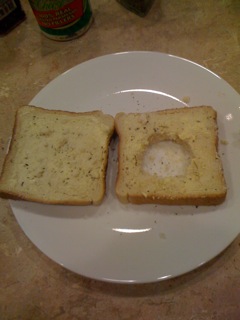 Add on some Italian Seasonings or Garlic Salt to taste, and cover in parmesan cheese.
Place the slice of bread with a hole in it, butter side down in the pan, and crack the egg into the center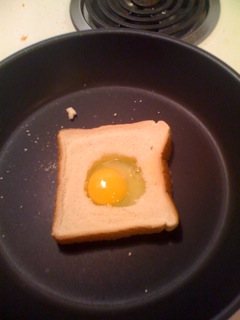 Cover with a lid to help the egg harden.
Once the egg whites seem to have mostly solidified, flip it over. Now stack cheese on top.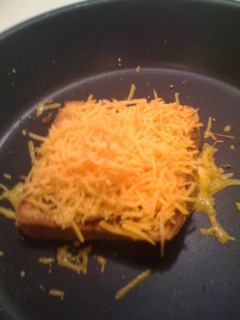 Place the other slice of bread on top, and cover with lid again.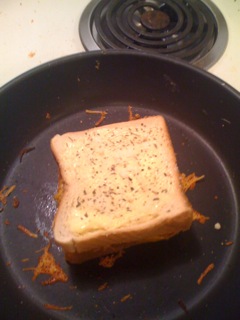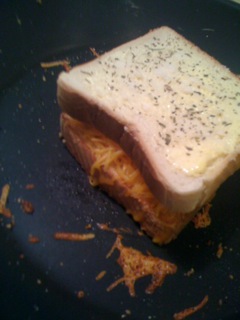 Once the butter on the top slice of bread starts melting and the bottom slice of bread has sufficiently hardened crusts, flip the whole thing over.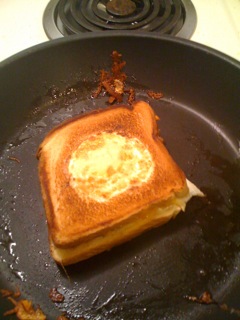 When the bottom slice of bread has sufficiently browned and has become nice and crunchy it is time to consume it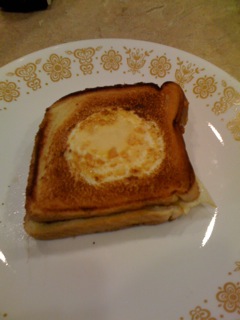 Cut it down the middle, depending on how long you cooked it the yolk should still be a little runny or soft: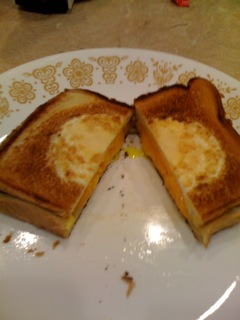 (please be aware that eating raw or undercooked foods can pose a hazard to ones health, I am not responsible for any illness because of your inability to cook foods properly)
Enjoy the Eggy in a Grilled Cheese Sandwich.